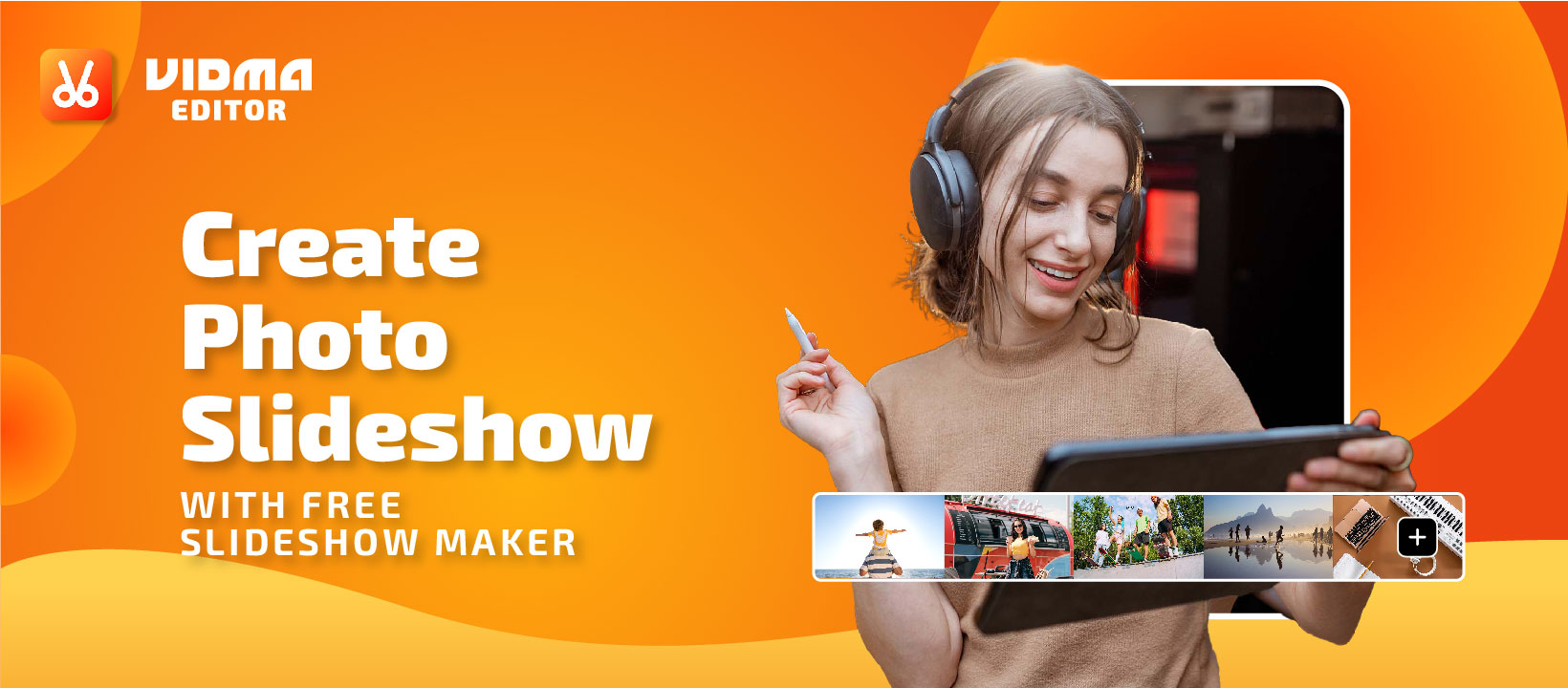 Create Photo Slideshow With Free Slideshow Maker
Looking for a free slideshow maker to create photo slideshow? Pictures are symbols of memory. They help one to recall the happy times and feel positive vibes about the current time. What's more interesting to watch is the photo slideshow. Photo slideshows help organize and arrange your photos systematically, allowing one to view their picture more conveniently. Photo slideshow seamlessly changes the picture taking you on a rollercoaster ride.
Vidma free slideshow maker is a great app to use when it comes to video editing. Vidma is a free video editing app that allows you to add photo to video, making a photo slideshow for yourself. It is a powerful video editing app that helps one to enhance the overall appeal of their content, making it more engaging and fun to watch.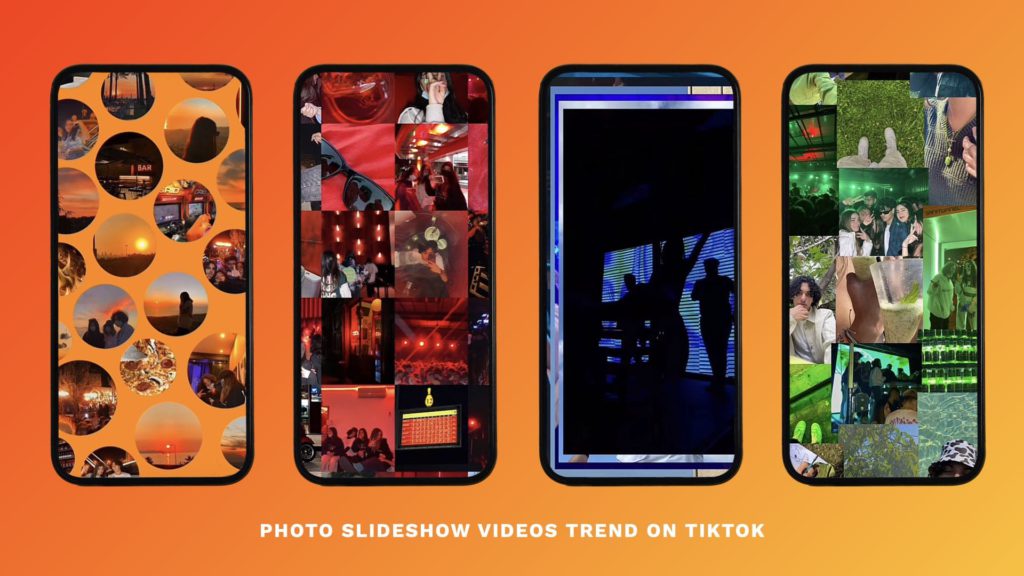 Not everyone can cope with complex displays and hard-to-understand interfaces. Hence, Vidma is here to help beginners with an intuitive and easy-to-use interface. With comprehensive editing tools and an extensive media library, everyone can edit like a professional using this free video editing app. With Vidma video editor, you can create and edit 4k quality videos without any watermark on Android. In addition, it allows you to create a picture slideshow and incorporate fun effects into the picture. You can add music, export files, customize with text and stickers, and the list goes on.  
How To Create Your Photo Slideshow Video
Start a Project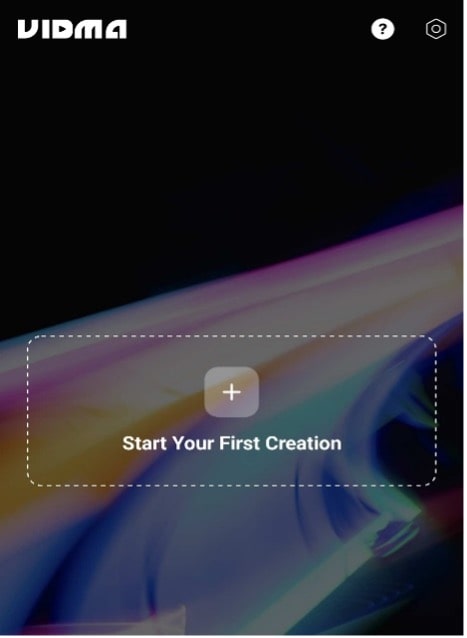 Download the Vidma Photo Slideshow Video Maker from the Google Play Store or Apple App Store. Launch the app and tap on the "First Creation" on the homepage to start a new project.
Add Photos to Video to Start Photo Slideshow Video Edit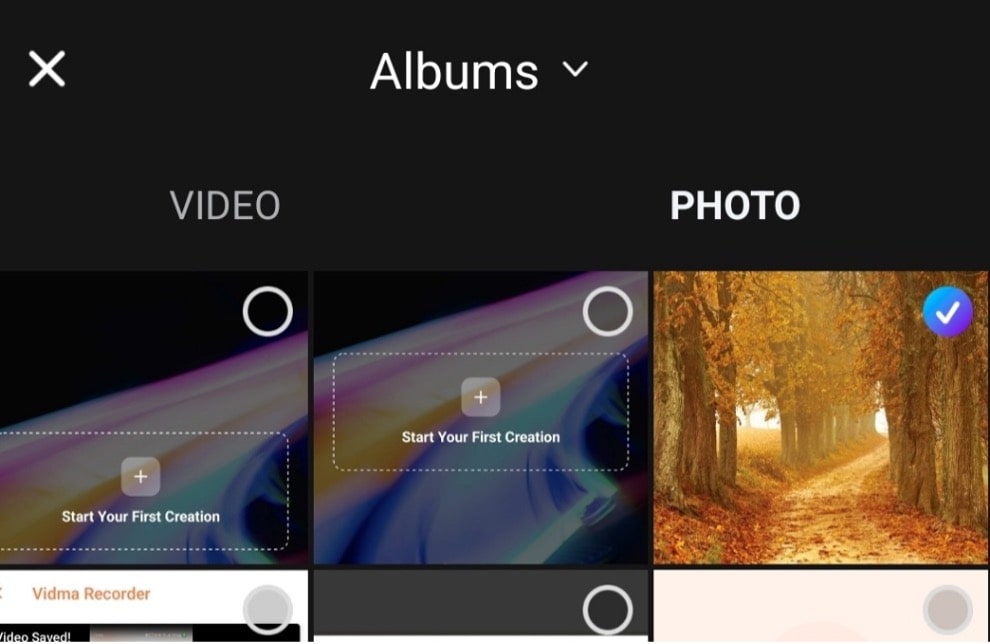 Import photos from your phone to the app. Select all the photos you want to include in the video.
Customize Video with Music, Text and More!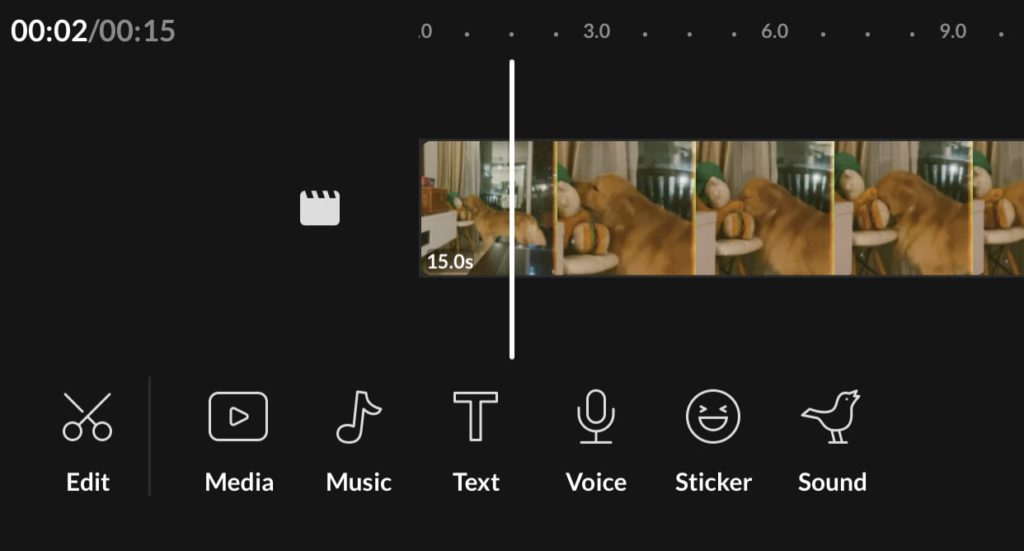 Adding background music to your videos is always crucial for maintaining user engagement from start to end. Vidma video editor can help you to create a photo slideshow with music. Vidma has an extensive Music Library that comes with free music and sound effects for you to use as background music for your creation. Alternatively, you can access your own music library and upload it to your video. You also get the option of extracting out the music from any video you upload on the app.
Adding text to your videos is extremely important, especially if you make tutorials or other How-To content. With Vidma, you can add text to video for free. This video editor allows you to add scribble animation effects, change text color and opacity, able to add a border, shadow, and background to text. Vidma free video editor comes with a huge collection of different fonts and styles to experiment with.
Vidma has a very wide variety of customizable features that you can use to enhance the overall look of your pictures and videos. These features include a range of fun stickers, cool transition effects, and cinematic filters. With the right effects to your videos, you can capture attention and make your videos even more engaging to viewers!
Save and Export Your Photo Slideshow Videos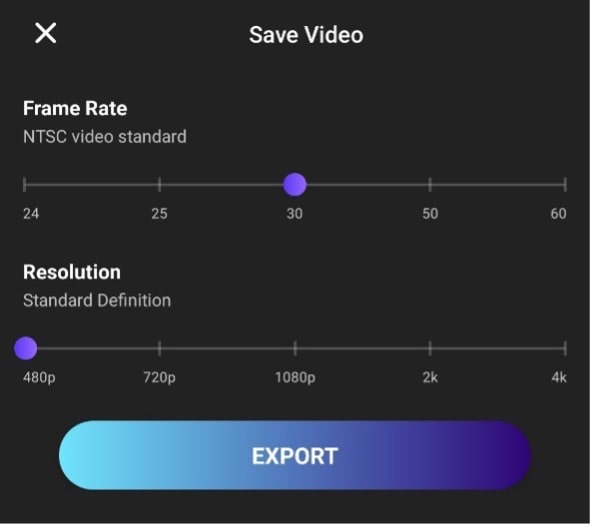 Now that you have successfully made a photo slideshow video with Vidma Free slideshow maker, it is time to export it. To do this, tap on the Export icon you can find at the top right of the screen. The app will prompt you to choose the resolution and quality of the video before you save it. Most video editors limit their storage to an inbuilt gallery, saving the edited videos in their app's album only. Yet, the case is not the same with Vidma free video maker. It allows you to save the edited content and then export it to other social media platforms and devices without any restriction.
Download Vidma Free Video Editor Today
Looking to create photo slideshows right from your phone? Try out Vidma Editor to kickstart your video editing journey. Vidma Editor comes with intuitive video editing UI to make it easy even for beginners. Add free music soundtrack, sound effects, video effects, video transitions, and much more. Create your next photo slideshow videos for free and export videos with no watermark! We can't wait to see what you can create with Vidma Video Editor.
👉🏻 Follow Us: Facebook | Instagram | Twitter