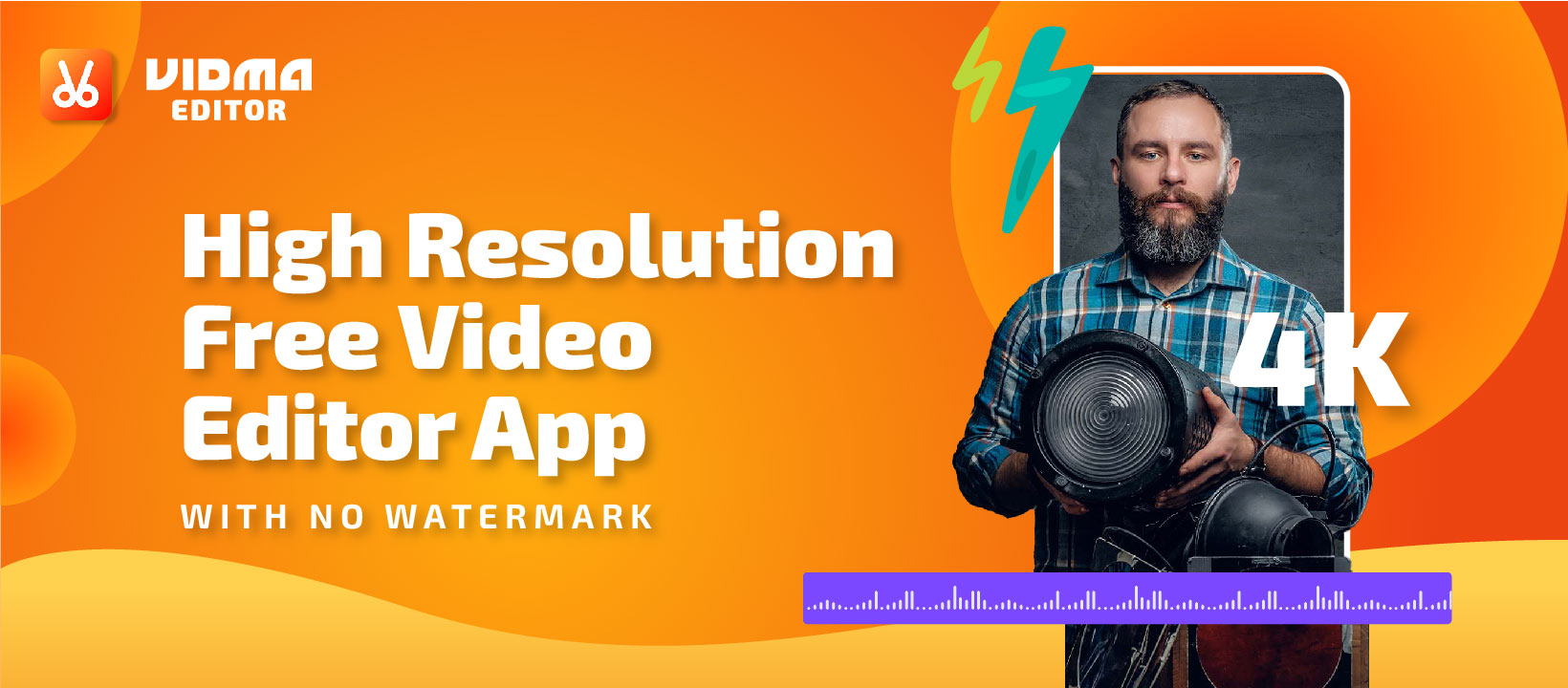 High-Resolution Free Video Editor App With No Watermark
Shot some nice vids on your mobile phone, and you need a free video editor app now? You can now create videos in 4K resolution and export videos for FREE with NO watermark. All you need is Vidma Editor, a powerful video editing app designed for Windows, Android, and iOS!
From creating short TikTok videos with subtitles to full-length music videos, Vidma is the best free video editor. Equipped with powerful editing features and an extensive resources library, Vidma Video Editor will be the perfect app to edit videos.
Quick and Simple Free Video Editor
It's pretty easy to edit videos with Vidma free video editor app. Equipped with extensive editing functions and a free resource library, this video editor makes video editing quick and easy. You can now edit video like a master, without professional editing skills or sophisticated editing software. Vidma Editor is an entry-level free video maker that comes with a user-friendly interface. It can do impressive work with just a few simple steps, even if you're a beginner.
Simply import your video clips, or images add texts as titles or subtitles, music, and effects to create an impressive video. Craft a mind-blowing video at your fingertips!
Multi-Tracking Video Editing
Vidma Video Editor's multi-tracking charts allow you to track the entire project at one glance. You can track and adjust all three main elements on the same page: text on top, image/video in the middle, audio at the bottom. You can reorder the clips easily by long-pressing them and drag along the timeline. This professional feature offers more flexibility when creating your videos under one single timeline for accurate and smooth editing.
Pro Video Editing Features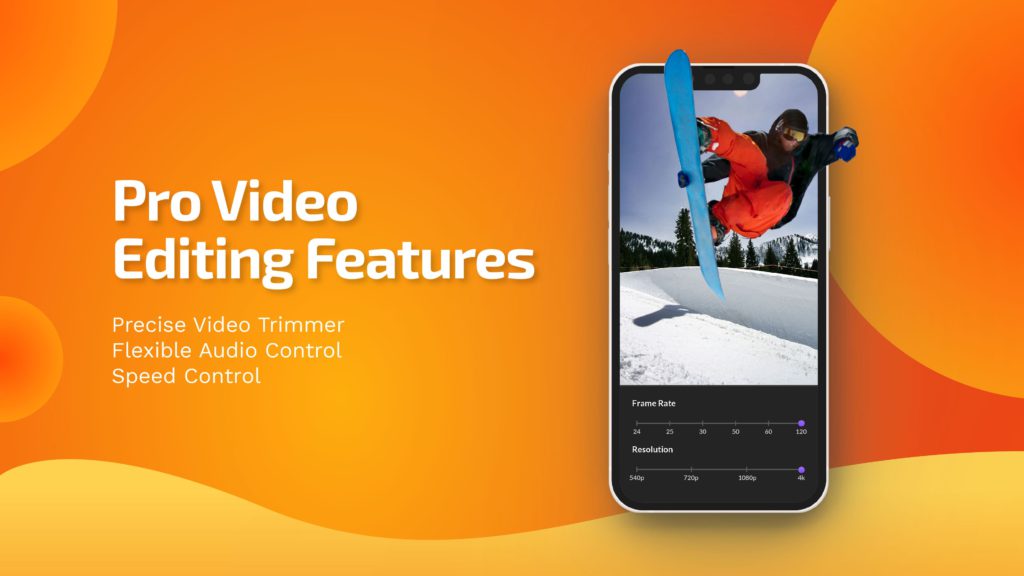 Vidma video editor makes video editing simple and delightful with an intuitive interface and pro video editing features that are quick to master.
Precise Video Trimmer
These are the basics, but they are important as they set the foundation of the entire video. Split, duplicate, reverse, and merge video clips; you get the drift. You can easily replace the clips with photos or other video clips using the "Replace" function
Flexible Audio Control
You can adjust the volume; add fade-in or fade-out effects to the audio. You can also extract audio from the video clip and use it for your own.
Speed Control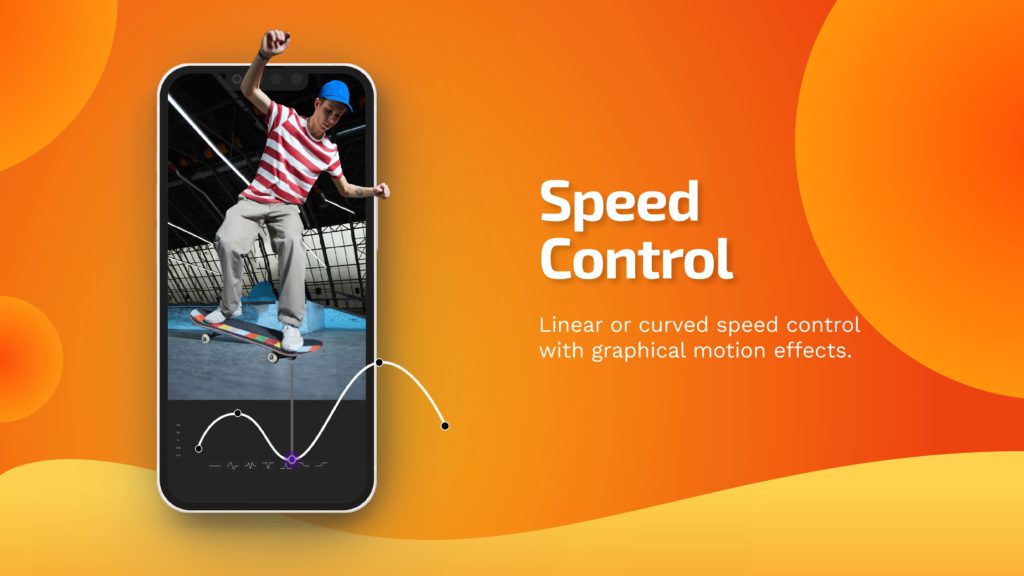 You can speed up or slow down the video from 0.5x to 5.0x as you wish. Vidma's speed control does not just do a basic, linear slow-mo or fast-motion effect. Explore the "Curve" tab under the speed control; you'll find tons of fascinating motion effects such as Montage, Bullet, Flash in, Jump Cut, and more.
Crop Your Video Clips in Moments
Don't bother to memorize the exact dimensions for each social media platform. Vidma made things easier for you by providing a range of social-media-friendly sizes such as IG posts, Tik Tok, Facebook Story, YouTube Shorts, and many more. Vidma Music Video Editor provides. If you already have a specific dimension in mind, you are free to pick from different aspect ratio options such as 18:9, 3:2, and many more. Vidma crop tool also comes with a special feature- it allows you to tilt your video (from -45° to 45°) and crop it at a different angle.
Extensive Music and Sound Library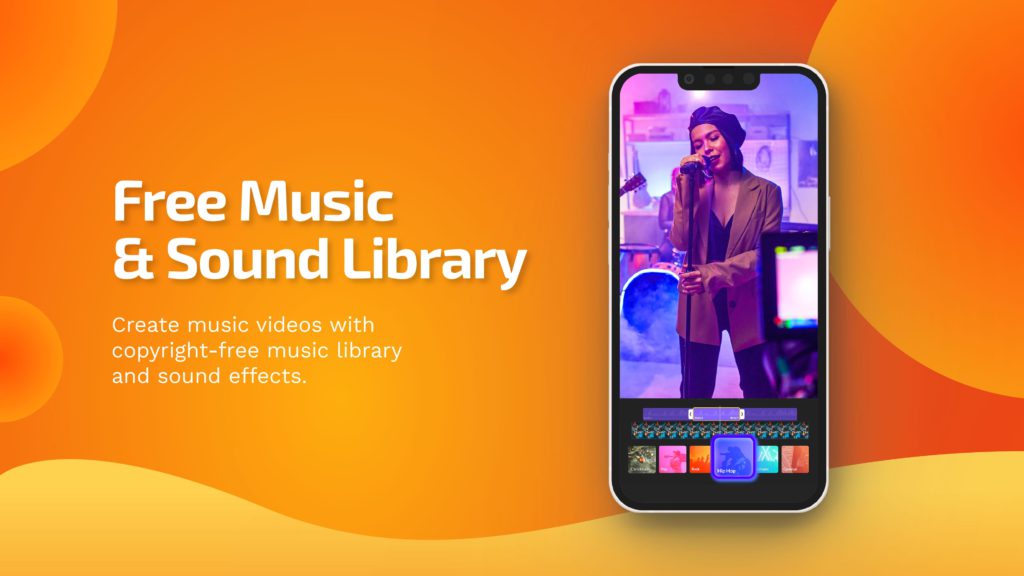 Add Music to Video
Music generates important emotions and can quickly establish a connection with the audience. Vidma Editor offers hundreds of quality soundtracks. Under the "Music" tab, you can have access to our copyright-free music library for the latest trending songs and free background music. Alternatively, you can drop your own soundtrack from your device gallery into the clip. This will come in handy when you create a voiceover presentation, where you can include your pre-recorded narration into the project.
Add Sound to Video
Bring your videos to another level with cool sound effects! Browse through hundreds of sound effects under different categories such as Gun, Animal, Nature, Traffic tool, and many more. Different scene requires different sound effects; choose one that perfectly fits the vibes! This could be really useful when you're creating a cinematic video.
Video Effect Library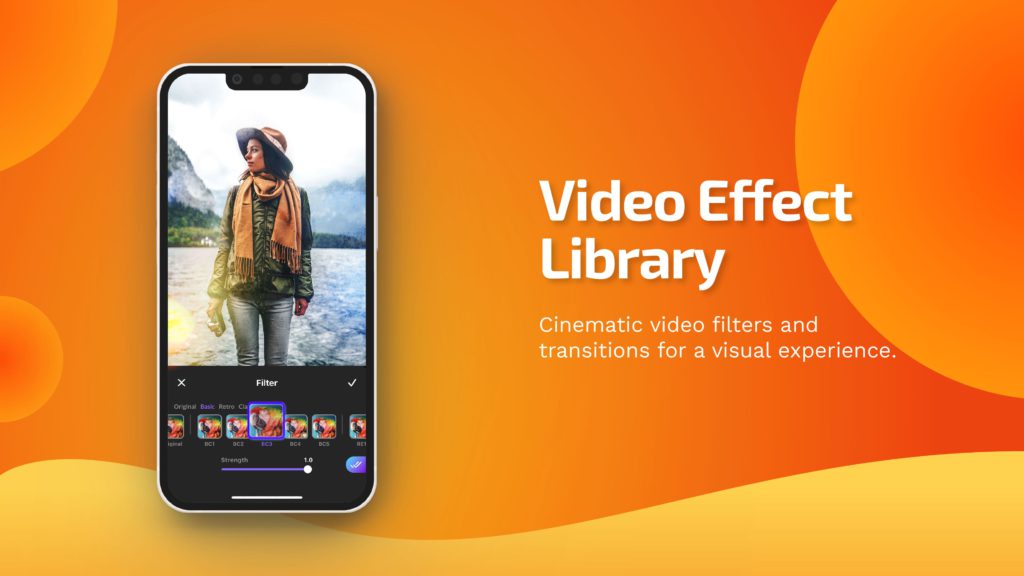 Cinematic Video Filters
Monotonous editing style can be boring. Why not amplify the video's tone, saturation, and contrast by adding high-quality filters from the Vidma editor's library? From Classical to B&W (Black and White), choose cinematic filters of different moods to make your video stands out.
Cool Video Transitions
Spur up your video by applying seamless video transitions between clips to move through the scenes. From fade to wave, you can craft a cohesive visual experience by adding layers of ease and excitement between the scenes.
Text and Sticker Material Library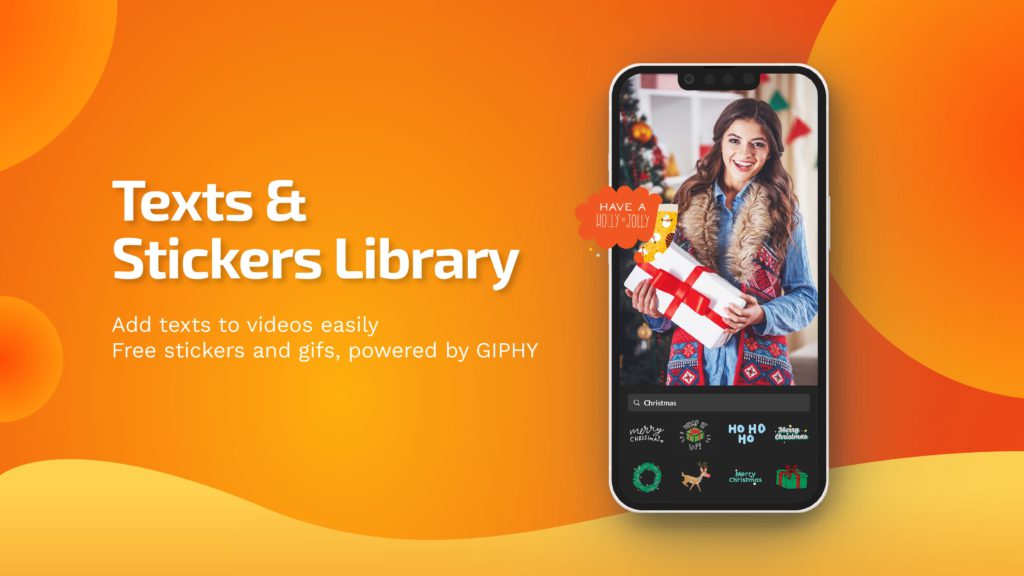 Add text to video
People often think of the boring black and white subtitles when we mention text on videos. Vidma editor can do so much more than that! Create scribble animation effects with your creativity using a huge collection of popular fonts and styles from Vidma. Besides changing the text color and opacity, you can also add border, shadow, and background to your words using Vidma Text editor. This can be really fun for creating lyric videos or photo video.
Add Fun Stickers to video
Vidma video maker is fully loaded with funny and cute stickers powered by Giphy. These stickers are constantly updated; you can always add some of these trendy stickers and fun elements to your video. These stickers can keep things light and interesting; they are absolutely great for editing Tik Tok videos and Instagram stories. You can adjust the sticker size effortlessly using the pinch-to-zoom, easy-peasy!
Export and Share your Masterpiece in High Quality
HD Video Export
Vidma video editing app offers you the best video editing experience with no loss in video quality. You can export high-definition (HD) video in 4K solution or your preferred quality and definition.
Share Videos Easily
Vidma video editor allows you to share your videos directly from the app to various social media platforms such as YouTube, Facebook, Tik Tok, Instagram, and more in seconds.
No Watermark
Enjoy unlimited video editing and subscribe to premium to enjoy video export with no watermark and no time limit with Vidma video editor. With Vidma Editor Premium, you can save your work with razor-sharp quality and no watermark in your export!
What video can you create with Vidma Video Editor?
Vidma can create stunning music videos in seconds. Choose from our library of free trending music to create a lyric video, or you can insert your own soundtrack and video clip to create a full-length official MV for your own music.
Whether it is a professional setting like tutorial videos and funny review videos, narrated videos and ASMR videos are currently in trend. In order to stand out from the crowd, more people are adding their own voice to videos for a personal touch to engage their audience better. With Vidma Voiceover Presentation Maker, you can easily add voice to videos with professional quality for free.
Many people are visual learners rather than just auditory learners. Including subtitles to videos actually helps your viewer to follow your content better. Adding subtitles is easy with Vidma Video Subtitles Editor. Simply choose to 'Add Text' and paste your subtitles in, and adjust its position to match with the video.
Create your next viral Tik Tok video with Vidma Tik Tok Video Maker. Vidma has tons of funny elements such as stickers and sound effects that will help you create the next viral Tik Tok video in no time!
It might be confusing as there are many types of dimensions for Instagram video content. It is always better to start creating your Instagram content with an optimized aspect ratio. With Vidma Instagram Video Editor App, you can craft your Instagram content efficiently with Vidma's Instagram-friendly aspect ratios. From Instagram Reels to Stories, Feeds, and IGTV, you get to choose from the different video formats that will best work for you.
If you are dreaming of becoming a YouTube content creator, but the sophisticated post-production process was holding you back, Vidma YouTube Video Maker is here to help. From creating vlogs, product reviews to funny videos, you can place your trust in Vidma. Fulfill your dream and become the next big content creator on Youtube with Vidma YouTube Video Maker!
Photo montage is a great way of safekeeping your memories. Compiling your photos into a photo slideshow can also help free up space on your device. Keep your precious moments alive with Vidma Photo Video Maker today.
Download Vidma Free Video Editor Today
Looking to create music videos, photo slideshows or just cool videos with effects? Try out Vidma Editor to kickstart your video editing. Vidma Editor makes it easy with free music soundtrack, sound effects, video effects, video transitions, pro video editing tools and much more. Create your next video masterpiece for free and export videos with no watermark! We can't wait to see what you can create with Vidma Video Editor.
👉🏻 Follow Us: Facebook | Instagram | Twitter